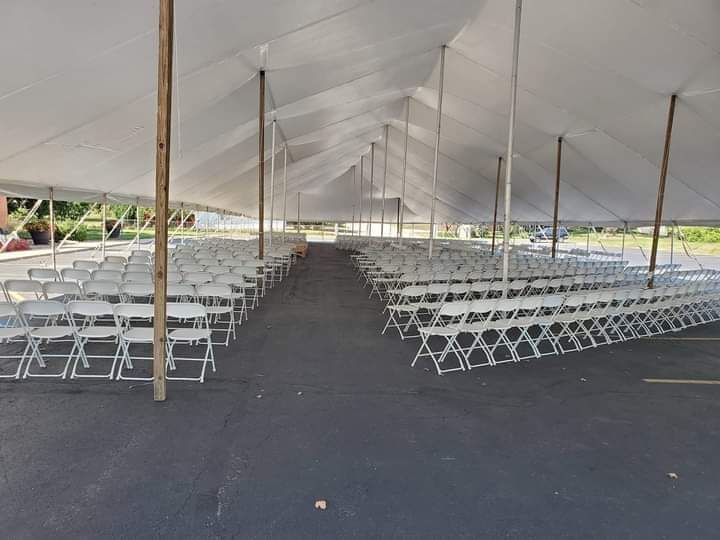 If you're planning a big party or event that's going to be held outside, one of the things you'll need to have is a tent. And while you could run out and rent one, Big T Tent Rental & Sales has new and used party, wedding, and event tents for sale in Des Moines, IA that would be perfect for you. You can use your tent to keep your guests out of the sun and provide them with protection from the rain while keeping the party going all night long. You can also use it to keep food fresh and give your DJ a place to set up. These are just a few of the reasons to invest in a tent that you can use all the time.
Tent Manufacturer – Types of Tents for Sale
Before you purchase a tent from Big T Tent Rental & Sales, you should decide which type would be best for you. We have many types of tents for sale, including frame tents, pole tents, walkway canopy tents, and custom designed tents through us. Each tent type has its own pros and cons, and we can help walk you through them so that you can make the right decision.
Buy The Best Tent for Your Events or Business in Des Moines, IA!
Wedding Tent For Sale
You never know what the weather is going to be like on your big day. We can put your mind at ease by supplying you with a wedding tent for sale that you can use on the day you get married. In addition, we work closely with rental companies looking to purchase wedding tents to rent to their clients. Our wedding tents are top-of-the-line and will match the elegant decor that's usually present at a wedding.
Party & Event Tents For Sale
No party is complete without a tent. Whether you're throwing a big bash in your own backyard or hosting a corporate event for your company, you should consider buying one of the party and event tents available through Big T Tent Rental & Sales to keep everyone out of the elements. Many rental companies also turn to us for help when they're looking for the right party and event tents for their customers.
Custom Made & Designed Tents
Don't need of the tents that Big T Tent Rental & Sales has in stock? Not a problem! In addition to manufacturing tents with predetermined specifications, we can also help you get your hands on custom made and designed tents. You can pick out the color scheme used on your specific tent. You can also decide how big you want it to be and what shape you want it to come in. You can select each detail so that your tent looks the way you want.
We Sell Tents for All the Following Des Moines, IA Needs:
Commercial Events
Event Tents
Tents for Parties
Tents for Fireworks
Carnival Tent
Festival Tents
Wedding Tents
Market Tents
New & Used Tents
And much more!
Tent Items For Your Needs
Wooden Center Poles
Metal Center Poles
Wooden Side Poles
Metal Side Poles
Stakes
Big T Tent Rental & Sales has so many tents for sale in Des Moines, IA for you to choose from. Get in touch with us at 816-861-4999 to find out more about ordering one.