If you're planning a wedding, reunion or any other event this autumn, renting a party tent with window sidewalls will ensure your guest are dry, comfortable and have a wonderful time.
Party tents with window sidewalls will keep out wind, rain and other weather, will have your guests feeling warm and will allow attendees to look out on any scenery at your event.
When you're ready to book a party tent, make the smart choice by choosing a tent with sidewalls.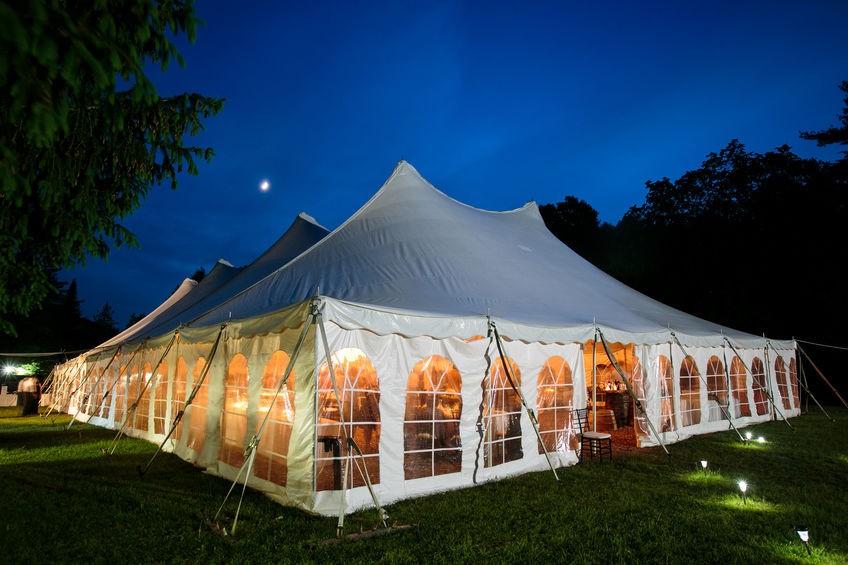 Keep out wind, rain & more
Renting a tent with window sidewalls will give you and your guests the protection you need against any autumn or spring weather that may present itself.
There's nothing worse than having napkins and belongings blowing around when you're trying to enjoy a meal or conversation. Window sidewalls will prevent wind from entering your event and will also make sure that your party guests and tables stay dry if it rains.
Keep things warm
Window sidewalls will also keep your guests warm during your event. These party tents will ensure that the cold air from winds and autumn weather aren't thought about during the party, so your guests can focus on what is most important.
Please note, if the weather gets too cold, solid sidewalls will need to be used as window sidewalls can cloud up and become damaged very cold weather.
You can still have a view
Party tents with window sidewalls also allow you to take in any views at your party site. These tents have large clear windows that will make your party that much more enjoyable. As an added benefit, they can be used around the entire tent or only in partial areas to block a poor view or setting sun later in the year.
Should you be in the process of planning a party in Kansas City, MO this autumn and are interested in renting a party tent with window sidewalls, we ask that you reach out to our experienced tent rental company at Big T Tents.
We proudly provide party tents with window sidewalls, solid sidewalls and more for all types of events throughout the year. Give us a call today at 816-861-4999 to learn more.