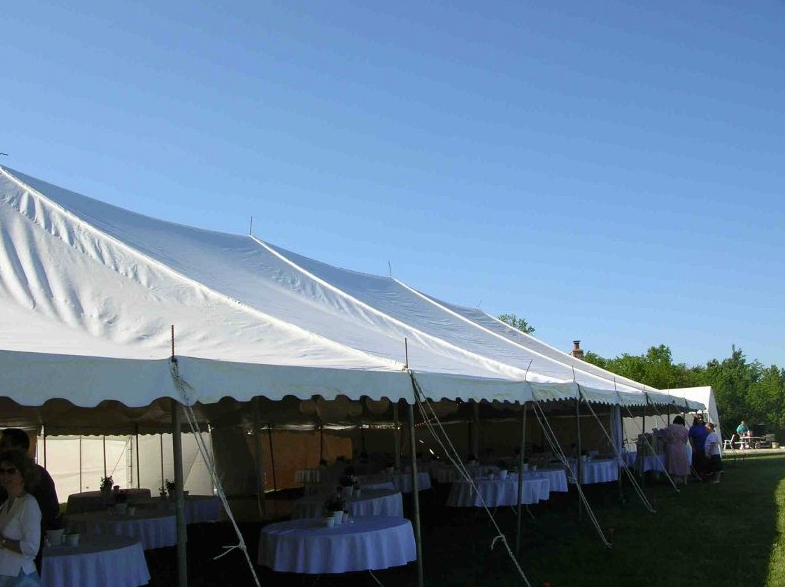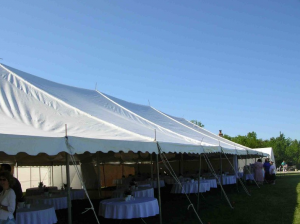 If you'd like to combine the charming atmosphere of an outdoor wedding with the convenience of an indoor event, a tent wedding could be the right choice for you!
Here's what to keep in mind when planning a tent wedding:
Weather
While there's no way to perfectly predict what the weather will be like on your wedding day, it's a good idea to consider some weather-related factors. If you're using a heater in the winter, sidewalls are required. If you're not sure if you need a heater or not, we recommend reserving the sidewalls just in case and then removing them from your order one week before your wedding if the forecast confirms they aren't necessary. When removing accessory items a week prior to your wedding, you won't be charged!
Flooring
When it comes time to dancing, you'll want a sturdy floor to support you and your guests as you dance the night away! We have dance floors available for smaller areas of the tent, just be sure to take flooring into consideration when you are choosing the tent size.
Venue rules
We recommend setting up at your venue a couple days in advance and then picking up on the Monday or Tuesday after the wedding. It's less expensive to keep a tent over a weekend than to have it set up or taken down on a Saturday or Sunday when there are extra fees.
When you rent a tent with us, you'll find that our standard tent prices cover up to a week's rental duration including one weekend. The extra time allows for decorating and cleaning up without incurring any more cost. Wondering how long it typically takes our crew to set up a single tent? On average, it's between an hour and a half and four hours, depending on the size of the tent and the surrounding terrain.
Size
A too-small tent can make your celebration feel cramped, and a too-large one can overwhelm your party. The size rule is 10 square feet per person for seating at banquet tables, 12 square feet per person for round tables, 80 square feet per buffet table and average dance floors range from 250-400 square feet.
Décor
A tent is essentially a blank canvas. It's a great opportunity to show off your unique taste and style but start planning your décor early to make sure all of the elements are in place on your big day.
Advance planning
Reserve your tent early—at least six months before your special day. If you're planning a tent wedding in the Kansas City area, contact Big T Tent Rental at 816-861-4999 today!